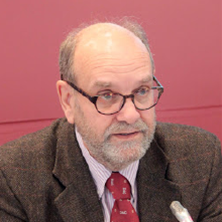 VARSAKELIS NIKOLAOS, DEPT. OF ECONOMICS, UNIV. OF THESSALONIKI
TITLE (in Greek): Οικονομική Επιστήμη και Στατιστική: Ένας Έρωτας που Διαρκεί Χρόνια.
Prof. Varsakelis is a Professor in Industrial Police at the Dept. of Economics of the Univ. of Thessaloniki. His research interests are in the fields of European Integration, Industrial and Technology Policy, Entrepreneurship Policy and Multinational Firms knowledge diffusion, entrepreneurship development, knowledge networks. He has published several research papers on topics related to Industrial Policy and Multinational Firms. He served as National Consultant for the Commission of European
Communities, General Directory II and XV and he was involved as research coordinator in numerous research projects of the EU General Secretariat for Research and Technology. He served as Vice-Rector of Finance of the Univ. of Thessaloniki from 2014 to 2019.
LIMNIOS NIKOLAOS, DEPT. OF APPLIED MATHEMATICS, UTC, FRANCE
Nikolaos Limnios received his diploma from the AUTh, Greece; his DEA from University of Technology of Compiegne (UTC), France; and his Ph.D. in 1983 from the same university. He received his Doctorat d'Etat in 1991 from UTC. He is a Professor in Applied Mathematics at UTC since 1993. His research interest concerns stochastic processes and statistics with applications in reliability, biostatistics, seismology, actuarial science and finance. He is the co-author of several books such as the book entitled Semi-Markov Processes and Reliability (Birkhäuser, 2001, with G. Oprisan) and the book entitled Semi-Markov Chains and Hidden Semi-Markov Models toward Applications (Springer, 2008, with V. Barbu).